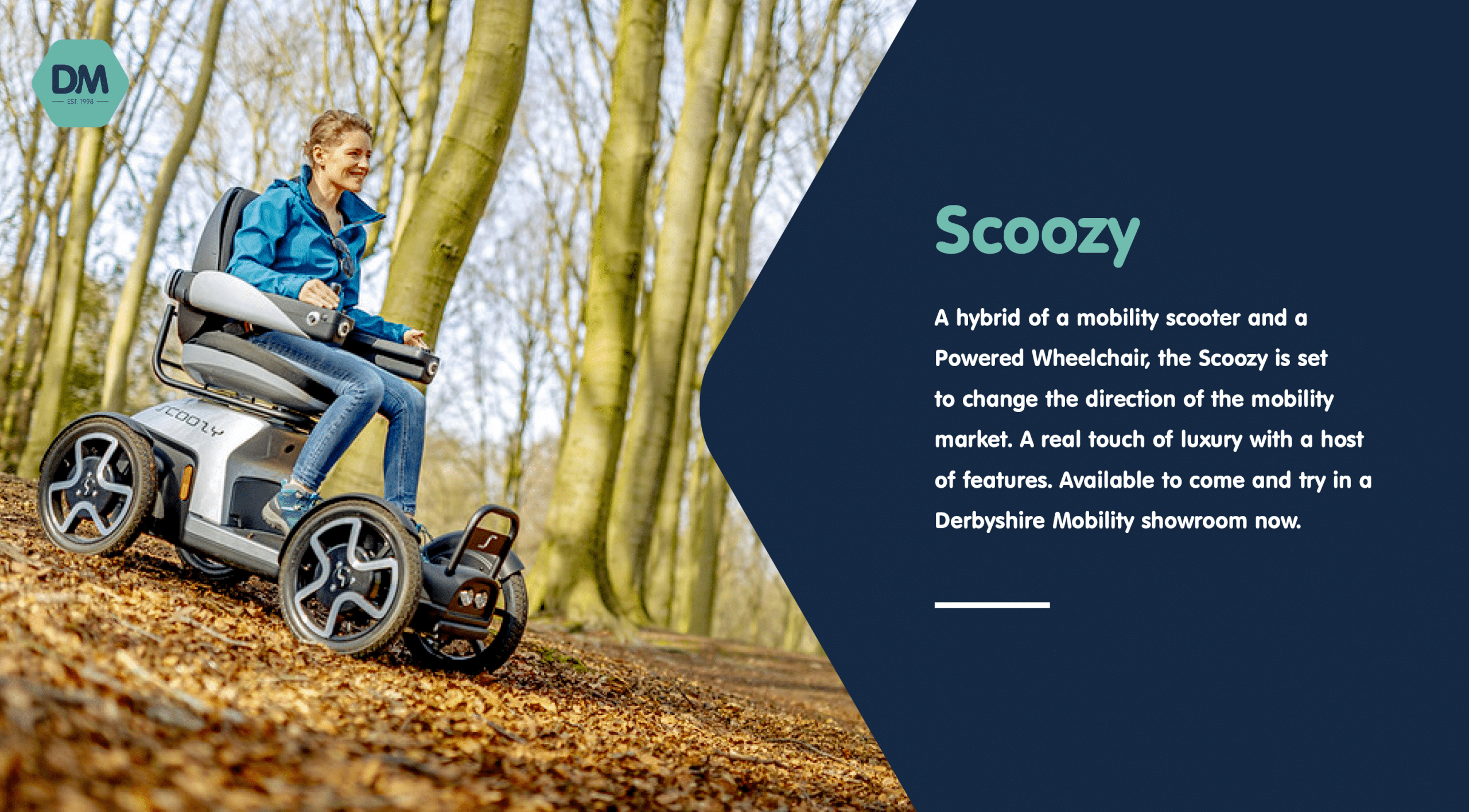 A hybrid of a mobility scooter and a powered wheelchair, the Scoozy is set to change the direction of the mobility market. A real touch of luxury with a host of features.
But what exactly is a Scoozy? Who are they made for? And where can I try one out?
What is a Scoozy?
Not quite a powerchair, or a mobility scooter, but out-performs many of both on the market currently. It is a unique, modern take on the mobility scooter and powered wheelchair combined.
Combining a lithium battery with a long range of 50km as standard (with the option to upgrade further), large 16″ wheels, and 4 semi-independent suspensions, the Scoozy provides a smooth, comfortable ride.
The Scoozy has a universal seat with a few adjustment options, such as seat height, an ergonomic seat shell with a velcro-attached cushion. The seat width is also adjustable.
A remarkable feature of this product is that it works with a uniquely programmed NFC tag as a key. Each Scoozy is associated with a unique tag, to deter thieves from stealing the chair. The team over at Scoozy recommends a TIP Tex-Lock Cable Lock for additional security, however, this is not available through Scoozy themselves.
Who are they made for?
Many users have various conditions or illnesses that affect their mobility. MS, ALS, COPD, cerebral hemorrhage, spine injury, and rheumatism are just some of the examples. However, users with temporary issues such as knee surgery are also known to make use of this machine.
Where can I try out a Scoozy?
We have one of these available to try out in either of our Derbyshire Mobility showrooms in Ripley or Matlock. Please get in touch with us with at least three days' notice if you wish to try it out.
Check out our product listing, or download the Information Guide from the manufacturer for more information.