Are you sitting comfortably?
If the answer is no, then we can probably help. Derbyshire Mobility stock rise and recline chairs, and beds from suppliers such as Cosi Chair, Rise & Recline, and Repose. We find each range of chairs fills a different need within the marketplace, and each offer different benefits to the customer, which we will go through in more detail below.
Chairs and beds from Derbyshire Mobility couldn't be easier, and whether your need is urgent or more bespoke, we will be able to help. We have a range of furniture on display in our showroom that you can purchase (if you speak to the staff kindly, they may even do you a discount on stock furniture), or we can demonstrate a number of features through our showroom chairs, and build a bespoke piece of furniture just for you. We then send the details off to one of our UK based factories, and it can be with you in as quick as 7 working days.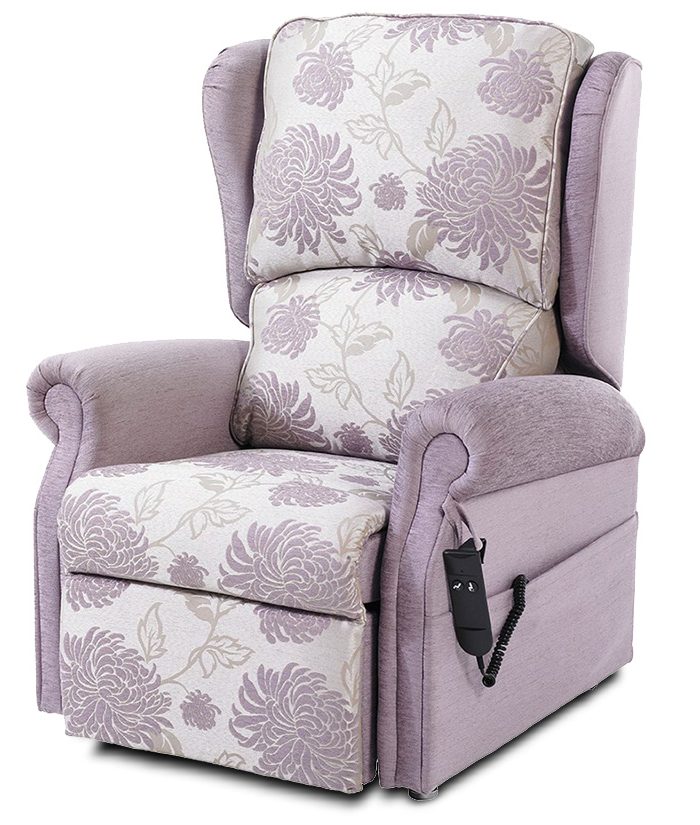 "As soon as I laid eyes on my new recliner chair, I knew that I wanted it. After visiting the showroom, I ended up walking away with a bespoke settee to match and I couldn't be happier."
Julie Turner, Ashbourne
Quick Turnaround Recliner Chairs
Cosi Chairs provide quick turnaround, standard size chairs that will soon be available to buy online, with 2 day delivery an option. You don't have as much choice with fabric and size, but if the need is urgent, we are on-hand to get you something quickly.
Cosi Chairs do come in a good selection of fabrics with different sizes and back styles available, they are also offered in either single or dual motor, so we're pretty confident you can find what you need in this range.
Bespoke Rise & Recline Chairs
Rise & Recline offer a full bespoke range of chairs, everything they manufacture is made-to-measure, available in any fabric you can get your hands on, and – more importantly – it is turned around quickly (7-10 working days). As an added extra, these products are made in Derbyshire to make us feel even better about using them as a supplier!
Repose also build bespoke chairs to a great standard; their chairs are British manufactured and tend to be more cost effective due to the slightly longer manufacturing time (3-4 weeks).
Take a look at each supplier's brohcure
Our furniture can include the following
Bespoke fitting service at home
Infinite choice of fabrics
Heat and massage added to your chair
Removable arm to aid with wheelchair transfers
Bariatric chair sizes available
Waterproof fabric which is ideal for care homes
Flat lift available to aid with transferring
Pressure foam built into both the seat and footboard