Are you sitting comfortably?
If the answer is no, then we can probably help. Derbyshire Mobility stock rise and recline chairs, and beds from suppliers such as Cosi Chair, Rise & Recline, and Repose. We find each range of chairs fills a different need within the marketplace, and each offer different benefits to the customer, which we will go through in more detail below.
Chairs and beds from Derbyshire Mobility couldn't be easier, and whether your need is urgent or more bespoke, we will be able to help. We have a range of furniture on display in our showroom that you can purchase (if you speak to the staff kindly, they may even do you a discount on stock furniture), or we can demonstrate a number of features through our showroom chairs, and build a bespoke piece of furniture just for you. We then send the details off to one of our UK based factories, and it can be with you in as quick as 7 working days.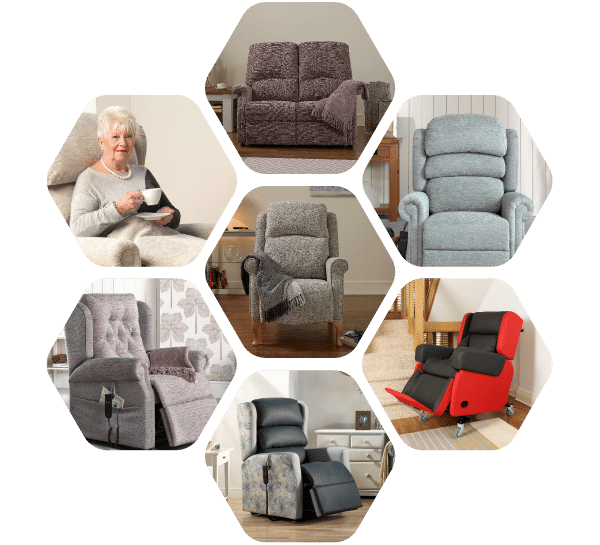 Friendly and experienced engineers

Convenient time and date to fit your schedule

Full product explanation and demonstration

Complete warranty and service options

Derbyshire Mobility provide a first class product and professional service. I approached them for guidance and advice for a replacement rise recliner chair for my Dad who is in a care home. Rob was very helpful, really knows his product and cares about the customer's needs. I would definitely recommend them.
Laraine
September 2021

We can not recommend Derbyshire Mobility highly enough! The advice and service was excellent. We bought an electric recliner/stand up chair and a single bed that lifts and reclines for my mother who had just come out of hospital. The guys really know their stuff and have years of experience and it shows. Delivery and set up could not have been better along with the price.
Jacky
September 2021

Excellent service. By far the best quote we had and the gentleman even gave us a free shower chair. When I booked the lift to be fitted it took less than a week from my phone call to the lift being installed. Polite work man who left no mess and made me feel at ease. Would highly recommend. They go above and beyond to give as much advice and information as they can.
Charlotte leeke
August 29

Excellent Customer Service from initial inquiry through to final installation of a stairlift fitted at my Parent's house. The attention to detail, explanation of product, demonstration, and time spent ensuring that we were happy with the purchase and service exceeded my expectations. If anyone is looking for genuine help and guidance about easing mobility then look no further. With the assurance of the follow up and warranty I am very pleased with the result and I can see the benefit for my Dad already.
Cheers Rob and thanks for your excellent Service!!
Martin Orgill
August 29