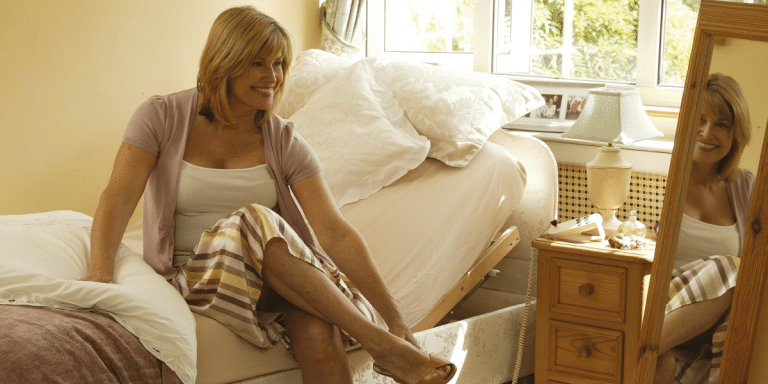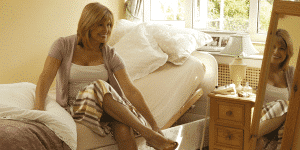 Here at Derbyshire Mobility, we offer a range of adjustable beds but how do you know which one is best for you? or whether you need one at all. An adjustable bed allows you to ensure you're getting the best possible night's sleep by allowing you to customise the bed's alignment.
It's been a common perception that adjustable beds as for the elderly or for those with mobility issues. While this was a primary reason for their creation, adjustable beds have grown in popularity over the past few years and people of all ages are using them for health and lifestyle benefits.
If you have a medical problem, adjustable beds can be used on the recommendation of your doctor or physiotherapist. However, they aren't limited to those with health concerns. If you're looking for a customisable sleep experience, an adjustable bed is a great option.
We have listed the three main health and lifestyle benefits below;
Relieving chronic pain
Adjustable beds help you recline in various positions and angles based on your needs. This can help ease chronic pains related to arthritis, sciatica, and various other issues. The option to select different leg and head positions takes pressure off aching joints, giving you time to recover as you sleep and ensuring less pain and easier mobility in the morning.
Improving your circulation
Lifting either your upper back or lower body improves circulation and can assist with recovery from mobility issues. For example, if you suffer from oedema in your legs, you could benefit from an adjustable bed. Position the bed so your lower half is above heart level during the night to alleviate some stress.
A better night's sleep
Sleep is the body's chance to recharge and the more comfortable you can make yourself, the better-quality sleep you'll get. Adjustable beds help you find the perfect sleeping position, enabling you to fall asleep faster, remain asleep longer and wake up more refreshed.

Reading or watching TV
Instead of sitting uncomfortably in a regular bed, an adjustable bed can offer an elevated seating position that will eliminate any neck or back pains.
Different sleep positions for couples
If you or your partner prefer different sleeping positions, adjustable beds have remote controls so you can adjust your own side of the bed.
Work-life
Those who are stood up most of the working day can suffer from swollen feet. Having a bed that elevates your feet at night will reduce swelling and may help prevent the chance of developing conditions such as varicose veins.
Adjustable Beds in Derbyshire
At Derbyshire Mobility, we offer a wide range of adjustable beds in Derbyshire. Based in the Derbyshire area, all our beds are comfortable and manufactured to the highest standard. This means you'll be comfortable and relaxing at home in no time. To find out more about our beds, get in touch. Contact Derbyshire Mobility today on 01773730863 or via the online contact form.