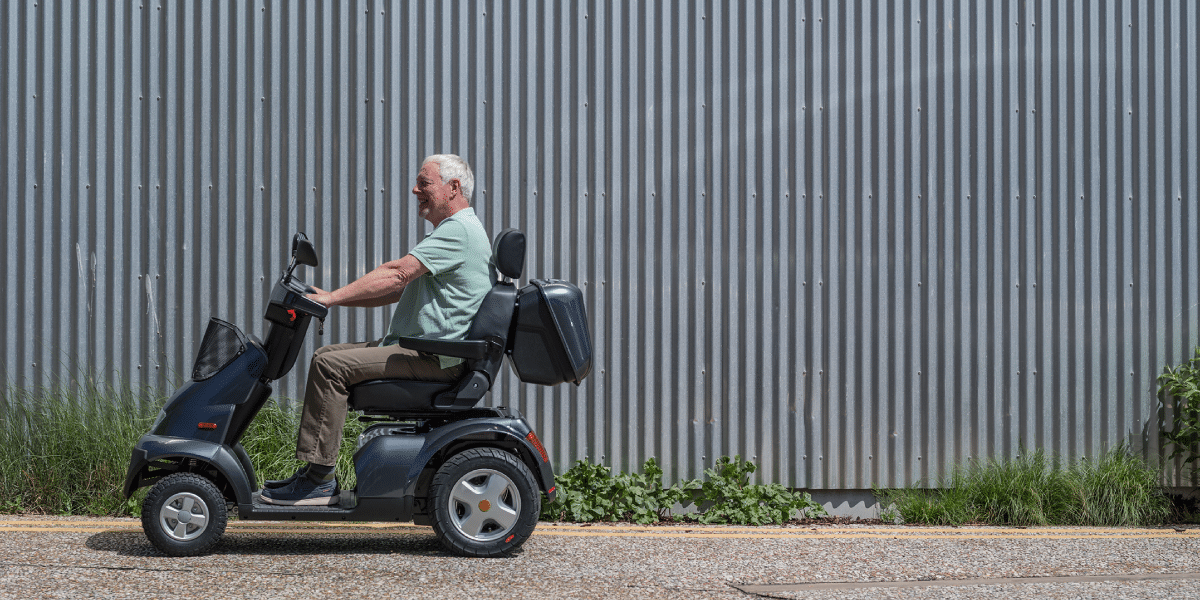 When deciding a mobility scooter is the right option for you, there is a lot to consider, and we find many customers haven't thought it through fully before taking the plunge. We have written this useful guide to help you understand everything to consider when browsing the ever-growing market of mobility scooters. We find the best way to define which scooter is right, is by asking yourself a series of questions.
Do you need to transport the scooter?
If so, you have instantly reduced the market by 50%, you need to rule out pavement scooters and road legal scooters, and start looking at car boot scooters, folding scooters, and lithium battery scooters.
Once you know it is going to go in the back of a car, you then have to ascertain how light you need the scooter to be, and the best way to do this is by coming to our showroom to gauge the weight for yourself. Also, space may be of a premium in the back of a car, and the lip on a boot may make the difference between being able to get the scooter in or not. If lifting the scooter into the boot of a car is an issue, then you can always consider a hoist.
You may also wish to look at flight friendly mobility scooters, which are now more commonly lithium battery versions, the lighter and easier to transport, the better. Some mobility scooters even come with their own case for travel. These options are also ideal for taking on cruises.
Where are you going to store and charge your mobility scooter?
Scooters can be very large items, and they do need consideration as to where they are going to be stored. For example, if you are buying a road legal scooter, you need to have room in the garage, or maybe a dedicated shed – which we can help with. If neither of these are an option, at the very least the scooter will need covering over if it is being stored outside – again, we stock different sizes and grades of cover to make sure your scooter will stay dry over the colder months. It is important wherever it is stored to make sure you can get electricity to the scooter.
If you are purchasing a smaller scooter, leaving the scooter in the car may be an option as long as you are able to get the battery indoors to charge it. If you are taking the scooter indoors, you need to ensure it isn't going to block any exits, and you need to make sure you have the necessary ramps to get it into the house. Some of our mobility scooters fold up, so would be easily stored in a hallway, or an under-stairs cupboard.

How far do you want to go on the scooter, and what sort of terrain will you be travelling on?
Some of our mobility scooters can travel 30 miles, but this depends on several factors. Firstly, the terrain will make a huge difference, if it is uneven or soft then it's going to take more draw from your batteries which will in turn decrease your range. Another factor that will largely decrease the range is in the incline, even a slight gradient will drain your batteries quicker than a flat surface.
One of the biggest impacts on the range of the scooter is the user's weight, and although the scooter does have a weight limit, if you are towards the top end of the limit, you are going to significantly decrease the scooter's range.
Adverse weather conditions will also decrease what you're able to do on the scooter, but generally the more range you want the bigger the battery you need, and we advise the scooter will do (on average) 75% of the range advertised in the brochure.
What budget have you got to play with, and what sacrifices might you need to make?
We all want the perfect scooter, often we hear that somebody wants the lightest scooter that will carry over 20 stone, and fit into the back of the car easily, but they have a budget of £500, it's very rarely going to happen. As a general rule, the more requirements you have, the more cost there is going to be. For example, the SupaScoota Spartan will carry up to 32 stone, is a light tubular frame with a lithium battery and it folds up neatly into the boot, but it costs £2795, whereas some boot scooters can be from as little as £795.
In terms of setting a budget, we would advise around the £1000 mark for a new boot scooter, and £500 for second hand. If you are looking for something bigger, then if you set your budget around £1800, you can go up or down from there depending on which features you are looking for. For a second-hand pavement or road legal scooter, you should start around the £800 mark. All these prices would include a warranty and full back up service from Derbyshire Mobility.
We are more than happy to talk to you about finance options, or potentially purchasing a scooter through the Motability Scheme.
There is a lot to consider when buying a scooter, and that's why we are here to help. Please use this guide as a reference, but don't hesitate to contact us, or come and see us in store to help you further.