Wheelchairs
At Derbyshire Mobility we have a wide range of wheelchairs available. Whether you're after a manual wheelchair to help transport a friend or a family member who isn't so capable on their feet anymore, or to propel yourself in order to save you walking, we have one to cover your needs.
We also stock off the shelf powered wheelchairs but if you're looking for something abit more specialist to suit your disability we also can provide prescription wheelchairs after a specific personal assessment. All options give our customers more indepence and freedom but most of all allow them to be more comfortable.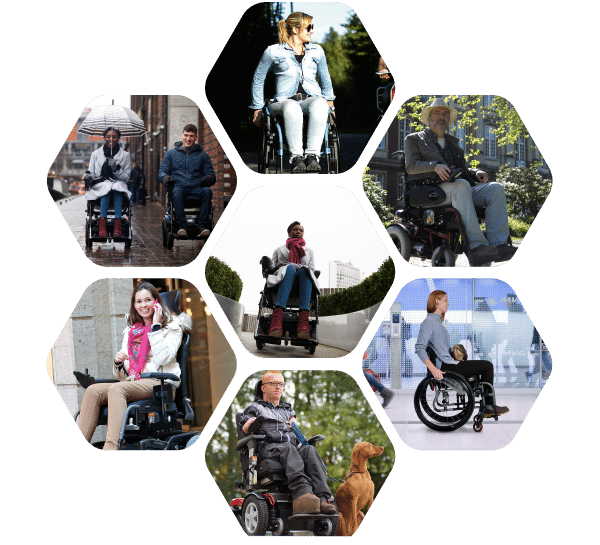 Friendly and experienced engineers

Convenient time and date to fit your schedule

Full product explanation and demonstration

Complete warranty and service options

Our family would like to thank you for your time and consideration through what can only be described as the worst couple of months in our lives. You have made the whole ordeal of purchasing a powered wheelchair an enjoyable experience for the whole family. Taking into consideration not only my mother's needs of seating and powered functions but also taking time with my father to make sure he can control and maneouvre the chair. The amount of knowledge you have shown throughout the demonstrations is second to none and we thank you for your time and patience at what is a very difficult time. You really are a credit to your company and we would definitely recommend Derbyshire Mobility to anyone going forward. Thank you again, God Bless.
Ann Thatcher
3rd February 2022

Rob came to my Mum's home with 3 different models to try. Mum was able to try them out both in her home and on the nearby paths. Having worked out what we needed Rob then came back a few days later with a couple of other models to try. The fact Mum could test drive them in her own environment made it really easy to choose the best one for her. Rob was incredibly patient as he listened to Mum tell her stories and help her work out what she wanted. There was no pressure to buy at any time, and I feel secure that if we need any support in the future they will be able to help.
Bregje Fisk
August 29

Excellent service. By far the best quote we had and the gentleman even gave us a free shower chair. When I booked the lift to be fitted it took less than a week from my phone call to the lift being installed. Polite work man who left no mess and made me feel at ease. Would highly recommend. They go above and beyond to give as much advice and information as they can.
Charlotte leeke
August 29

Excellent Customer Service from initial inquiry through to final installation of a stairlift fitted at my Parent's house. The attention to detail, explanation of product, demonstration, and time spent ensuring that we were happy with the purchase and service exceeded my expectations. If anyone is looking for genuine help and guidance about easing mobility then look no further. With the assurance of the follow up and warranty I am very pleased with the result and I can see the benefit for my Dad already.
Cheers Rob and thanks for your excellent Service!!
Martin Orgill
August 29