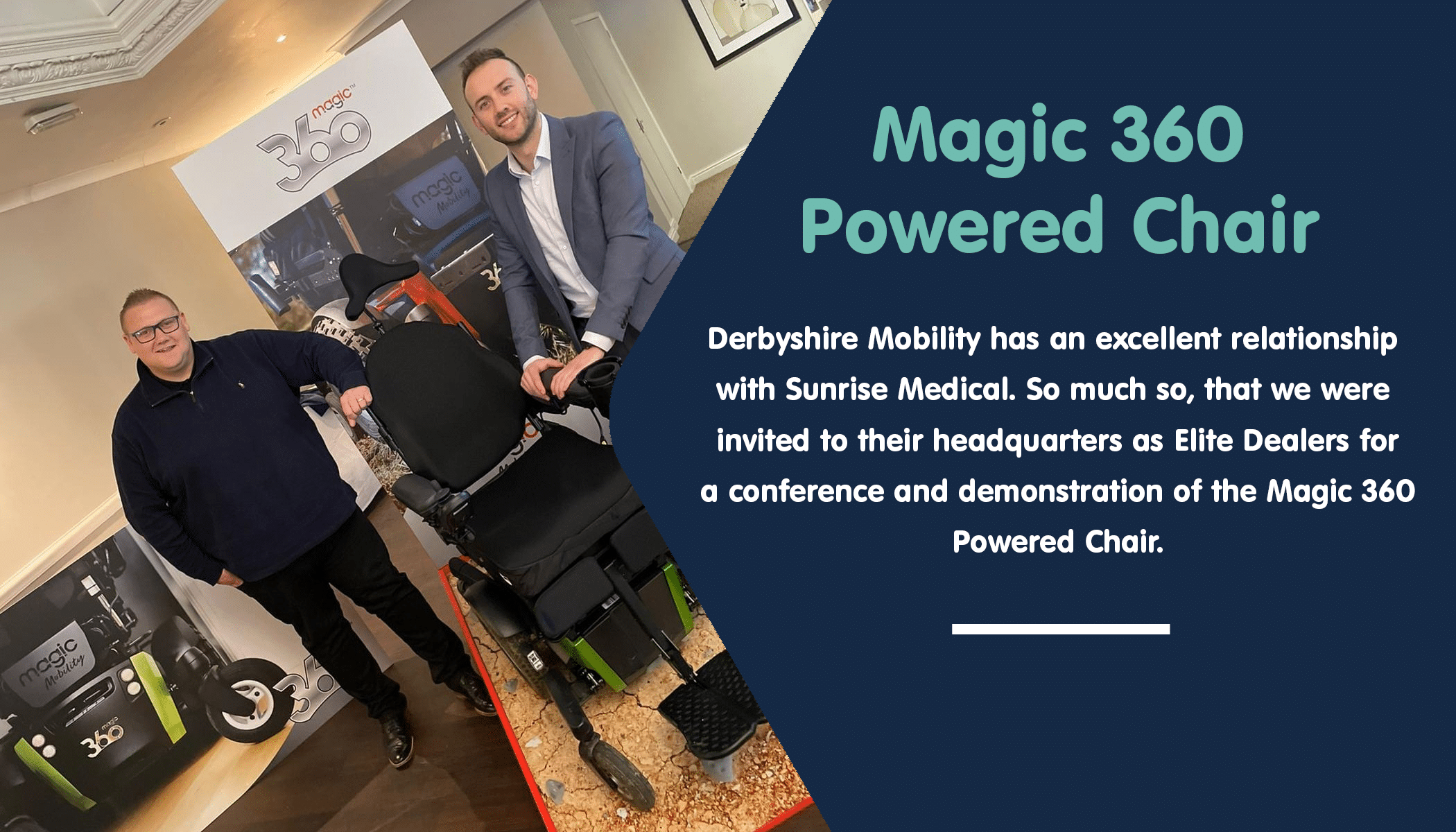 Derbyshire Mobility has an excellent relationship with Sunrise Medical. So much so, that we were invited to their headquarters as Elite Dealers for a conference and demonstration of the Magic 360 Powered Chair.
About Sunrise Medical
Founded in 1983, Sunrise pioneered the era of high-performance wheelchairs. Challenging conventions, and leading innovation along the way, Sunrise Medical is now one of the most globally well-known leaders in mobility products in the market today. Producing such products as the Nitrum, a popular, lightweight, aluminium framed active user chair.
About The Magic 360 Powerchair
The Magic 360 is an Australian-made powerchair, that is built to last and customised for the user's lifestyle. Designed with the user in mind, the Magic 360 is the world's most versatile chair.
The improved all-wheel suspension engineered by all-terrain experts takes care of the user by removing the "jiggle". Travel up to 3mph with the 12″ power lift engaged, or 6mph without. The user has the choice of three interchangeable wheel options. Tight indoor spaces and offices are a doddle with the Urban drive wheels. Parks and gardens are a breeze with the Crossover drive wheels, adding extra comfort. Finally, the Off-Road drive wheels provide the ultimate traction outdoors.
In addition to the above, the Magic 360 is available in many colours. High gloss choices include Sunset Red, Horizon Blue, Lucent Lime, Desert Orange, Sunrise Yellow, Stormy Silver, Rich Garnet, Midnight Black, Dusk Purple and Vivid Pink.
Looking for a more textured appearance? Choose from Carbon Fibre, Camo Forest, and Flames Fury.
Check out the product page for The Magic 360 for more specs and product brochure.
Where Can I Try One?
We can arrange a home visit with a specialist, simply fill in the form or phone us using the details found on our contact page.