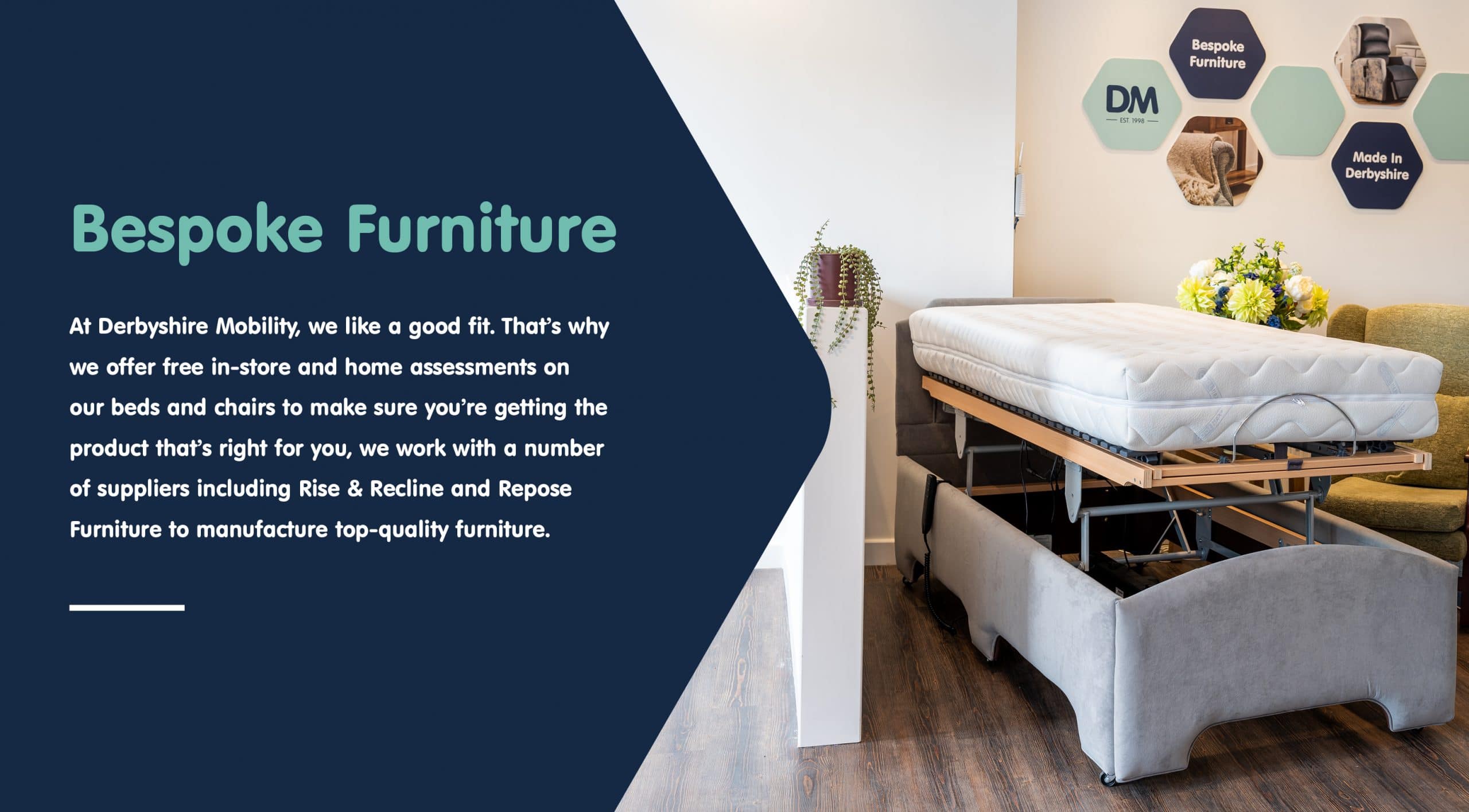 We stock custom-made, bespoke furniture in our Derbyshire showrooms from riser reclining chairs and beds, to static matching sofas and accessories.
The chairs that we stock are all manufactured in Britain by companies such as Repose, Rise & Recline, and are available in many different configurations.
If you are new to the journey of bespoke furniture, worry not! Our specialists are trained to guide our customers through any questions, offer assessments and demonstrate the furniture's features.
Free Assessments
Our specialists are able to offer free, in-store assessments to anyone looking for riser recliner furniture.
We take measurements, test functionality, explain features, and look through fabric swatches and any additional accessories that the customer may require. We are also on hand to answer any questions.
Free Local Delivery And Setup
Once the order has arrived at our showroom, we can deliver it to the customer's address for free within a 15-mile radius. A price can be discussed if the furniture is to travel any further.
Upon delivery, we will move the furniture to the room of choice, set it up, and demonstrate its' functionality.
Payment
Once you are happy with your order, we can discuss payment. Usually, we tend to take a 50% deposit before we send off the order and then request the remaining 50% upon completion and delivery. We don't necessarily charge for the full amount upfront unless that is something that the customer wants.
We accept cash and card payments in-store, upon delivery. In addition, we are able to take card payments over the phone.
Try out some made-to-measure, bespoke furniture in Derbyshire by visiting our showrooms in Matlock and Ripley. The showrooms are open Monday to Friday 9am to 5pm and on Saturday from 10am to 1pm. There is no need to book in advance, but we always appreciate a little heads up.