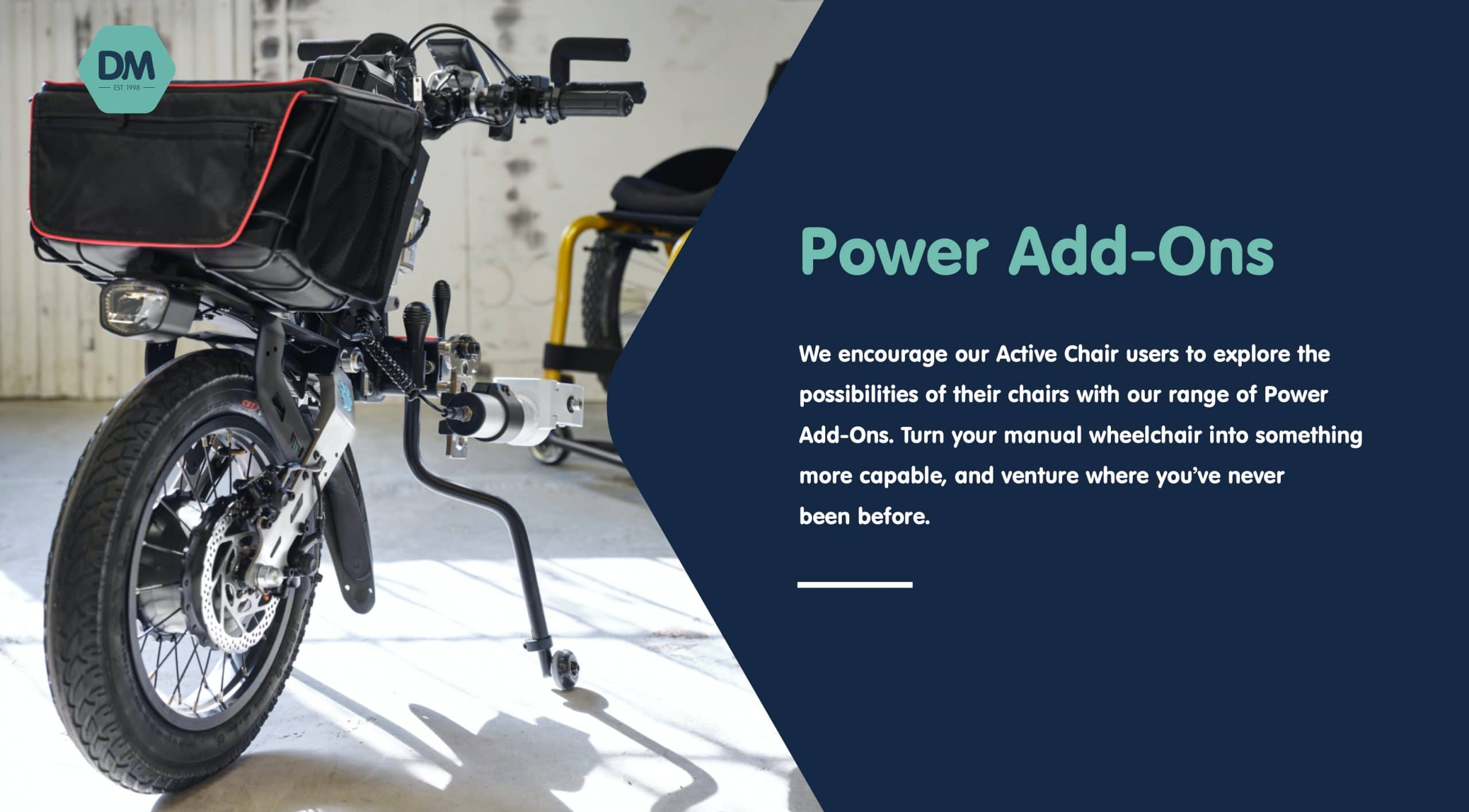 Power add-ons, or powerpacks, motorised wheels that attach to standard manual, and active user wheelchairs and provide extra propulsion. These powerpacks are powered by built-in rechargeable batteries.
But, what types of power add-ons are available? What are the benefits of using a powerpack? Will a powerpack get in the way of my wheelchair?
All of these questions will be answered below, read on to find out more.
Powerpacks For Standard Wheelchair
Powerpacks for standard manual wheelchairs, such as the Empulse R20 are designed to give the rider or driver an extra push up slopes, or over bumpy terrain. These push-assist powerpacks also benefit the person pushing the chair. The task of pushing a chair can be tiring and physically demanding. Especially when traversing the troublesome terrain mentioned above. A push-assist power add-on alleviates this issue.
Power add-ons that are designed for Active Chair Users are a different beast entirely…
Active User Chair Power Add-ons
E-bike attachments, such as the Empulse F55 are electric add-ons for active user chairs. These powerpacks attach to the front of the chair and are steered using handlebars, effectively turning it into a motorised trike.
A benefit of using an active user chair power add-on is the design itself. As they don't look like the usual disability aids, they can give the user a bit more confidence outdoors.
Power add-ons are designed for longer journies and can be upgraded to reach higher top speeds and distances on a single charge.
Worried about the power add-on getting in the way of your folding wheelchair? Worry not, as another plus of owning a power add-on is that they are simple to attach and remove. Some, such as the R20 are even able to fold up with the wheelchair.
We stock power add-ons at both of our showrooms, in Ripley and Matlock and they are available for demonstrations. Please get in touch if you would like to book a demonstration. In the meantime, feel free to browse our supply of Powerpack Add-ons.