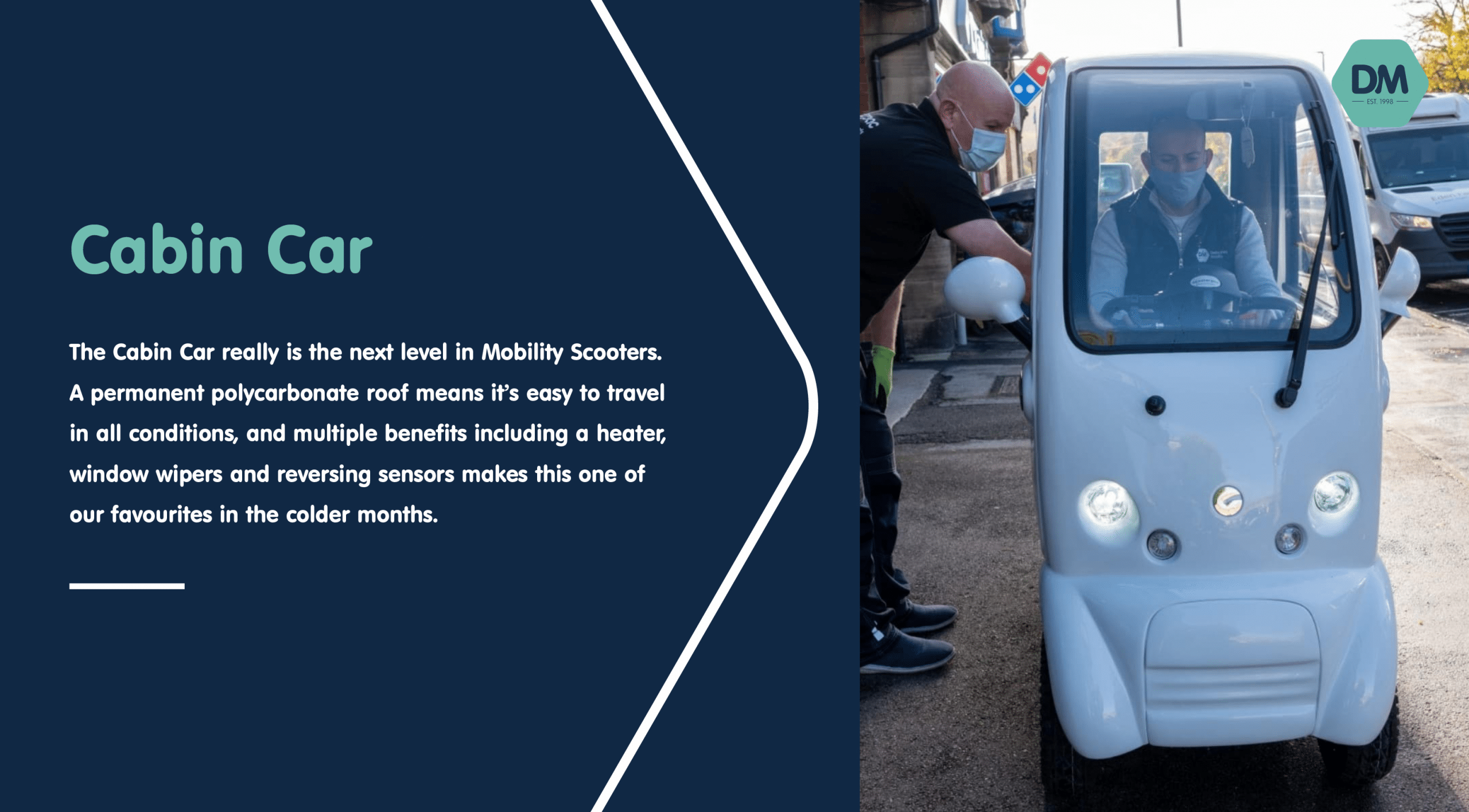 We are excited to announce the next level in mobility scooters: The Cabin Car Mk2!
Proudly designed and built in Great Britain by Scooterpac the Cabin Car Mk2 has been designed to offer you everything you could want in a mobility scooter.
But, what features does this scooter have? What about the inner workings? And, I have limited mobility, is this right for me?
What Features Does The Cabin Car Have?
Featuring a permanent polycarbonate roof, heater, window wipers and reversing sensors, this tactful transport is a favourite for the colder months. The car-like features, along with the enclosed design allows the Cabin Car to travel in many conditions.
With bright rear LED lights, easy access doors, a smooth acceleration system, and loads more. This scooter is crammed full of features!
What's Under The Hood, So To Speak?
Under the scooter's hood, you will find Dual 12V 75Ah batteries. Combined with the rear-wheel drive, 4-pole, 1400w motor, this scooter can reach a top speed of 8mph and travel up to 22 miles on a single charge! However, there is the option to take it even further with an upgraded battery allowing to user to travel up to 30 miles.
I'm Worried That My Mobility Issues May Get In The Way When Reversing.
Fear not! The Cabin Car features a full-colour LCD screen built into the rear-view mirror. This display shows live images from the reversing camera, for a clear view all around.
I'm A Stylish Individual, What Colour Options And Accessories Are There?
The scooter is available as standard in High Gloss Black, Ice Blue, Cherry Red, and Glacier White colours. Optional extras include a front bull bar, front and rear bumpers, a flashing beacon, lockable rear box for storage and black 9″ alloy wheels.
Where can I try out a Cabin Car Mk2?
We have one available to try out at our Derbyshire Mobility showroom in Ripley. However, we can always deliver to the Matlock shop with a few days' notice.