Reclining Furniture Derby
If the living room is where you spend the majority of your time, then ensuring the comfort of your furniture should be your top priority. By having a bespoke recliner made for you we can adjust every measurement from seat depth to foot position to ensure that you and your new recliner will be a perfect fit. Not only does a good recliner offer hours of comfort, but an ill fitted recliner may even cause physical problems, so make sure your recliner chair is right for you!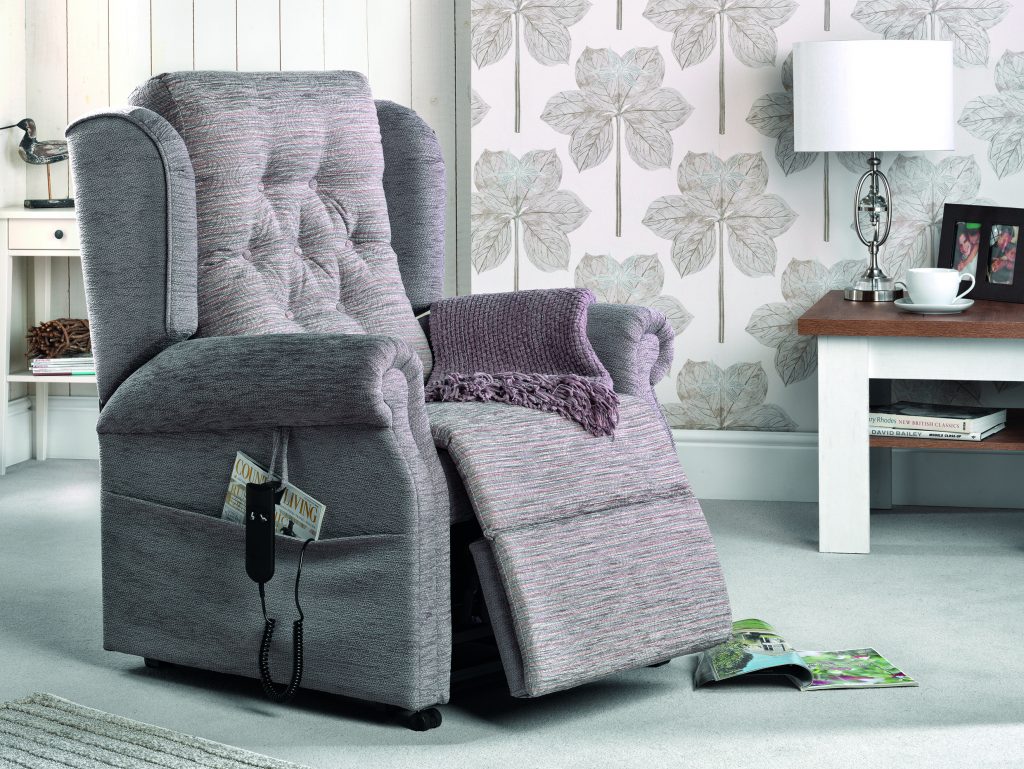 Mobility Recliners
If you've found yourself struggling with mobility, we can offer recliners supplied with a removable arm to enable easier transitions for wheel chair users, and rise and recliners built to assist you in standing up. Whatever your needs, we'll work with you to build the right bespoke recliner for you.
Recliners have also been shown to help with back pain as having the correct support with elevated legs can alleviate discomfort when sitting. Even strained muscles can benefit from a softer recliner with the correct lumbar support, and seat cushioning.
Take a look through our store and you'll see a variety of recliners on offer. But at Derbyshire Mobility we can offer bespoke furniture, customized with your required features and designs that can be in your living room within 10 working days. With an incredible range of fabrics, back designs, extras – including heat and massage – and single or dual motor options, we'll work with you to design a personalized fit.
With recliner chairs there may be more to think about than first thought, so here's some help.
What back design do you need? It's the first thing to consider when designing your chair. Whether it's a waterfall back, lumbar support, T-back, button back, or just a flat cushion, we'll need to look at this first.
Do you need some support built into the seat? Some of our ranges will offer real comfort, we can install pressure foam into the seat and footboard to relieve and prevent pressure soars. Dependent on whether your needs are high or low risk, our options include Viscoform (memory foam), Celliform (gel), as well as Liquiform, Coolform and just standard reflex foam.
You may want to consider a tilt-in-space chair, as these ensure your back remains at 90 degress, preventing any stretching of the skin.
We can even offer heaters or a massage system for our luxury recliners, which can have a great impact on reducing soreness or aiding with some arthritis.
We have a large variety of recliners so you may want to think about which mechanism you'd prefer. Our recliners range from a short recline, also known as a wall hugger, for areas with minimal space, to recliners with a dual mechanism, for you to take independent control of the footrest lift and back recline mechanisms independently.. We can even install a trio lift to help with flat wheelchair transfers.
The best approach is to visit our in store specialists to discover which recliner will best suit you, your lifestyle and your home. We'll answer any questions, and do a full assessmentto help you create a bespoke piece of furniture that'll add comfort and character to your home. If you have any other queries or concerns, please feel free to give us a call on 01773 513 235, or contact us via our website by clicking here.